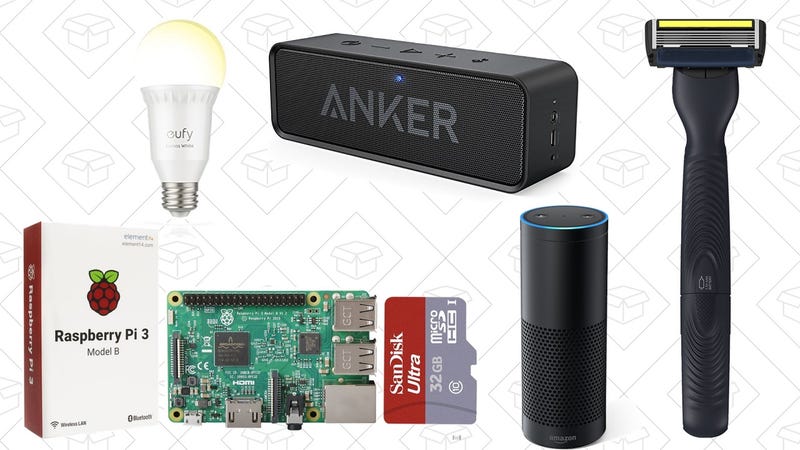 Anker Soundcore, Rapsberry Pi, Dorco Razors, Eufy Lightbulbs, and JumpSport Trampoline Gold Box kick off today's best deals.
Bookmark Kinja Deals and follow us on Twitter to never miss a deal.
Top Tech Deals
Anker's SoundCore blew away the competition to take the title of your favorite affordable Bluetooth speaker, and today, you can pick one up for $25 right now on Amazon, the best price we've seen since Prime Day.
I've owned this thing for over a year, and I feel like I never charge it. If anything, its quoted 24 hours of battery life is a conservative estimate. It also sounds fantastic for a speaker of its size.
---
The best camera is the one you always have with you, but that's much more likely to be your DSLR if you buy this $7 case from AmazonBasics.
---
Update: Sold out
You can seemingly build just about anything with a Raspberry Pi, including your own miniature game console, and here's a great deal on the newest Raspberry Pi 3. The kit comes with a case, a power supply, a microSD card, and some other accessories, so you should have just about everything you need to get started.
---
Update 9/18: Today's the last day of this sale, so don't miss your chance.
If you've been itching to get an Amazon Echo (and you really should get one), but balk at the $180 price tag, Amazon's offering up certified refurbs for $80 right now, by far the best price we've ever seen.
Amazon's certified refurbished products are all inspected and tested to work like new, and include the same one-year warranty you'd get with a brand new product, so there's really no downside to going this route.
---
You don't need to pay Apple $160 to enjoy truly wireless earbuds: These SoundPEATS look nearly identical to the AXGIO earbuds that I tried out last year, but with updated Bluetooth tech (4.2 vs. 4.1) and a lower price tag. They're not as sleek as some other truly wireless headphones on the market like AirPods or the Bragi Dash, but you can't beat that price.
---
Anker's multi-port USB chargers are our readers' favorites, and you can save on a four-port travel-friendly model that plugs directly into the wall, or a six-port hub that's better suited for your desk or nightstand.
---
If you still listen to audio through your computer's built-in speakers, this deal's for you. It's a small, USB-powered sound bar designed just for computers (though I could also see using it with, like, a bedroom TV). Just plug in the USB port for power and the 3.5mm jack for audio, and boom: Instant audio upgrade. Today's deal is about $6 less than usual on this model, and an all-time low.
---
It's new iPhone season, and whether you've already preordered an 8, are anxiously awaiting the X, or are just sticking with your current phone for another year, some of your favorite Anker accessories are on sale right now, as well as brand new cases from Anker's Karapax brand.
Note: I've been told that the PowerCore Fusion has limited stock available, so order that one early if you want it.
Batteries
Cables
Cases
---
My car battery doesn't even last three years, so I can't begin to imagine how this Logitech mouse can survive for that long. This is the best price we've ever seen on the Marathon Mouse, so I'd sprint over to Amazon to order one, if I were you.
---
Magnetic smartphone vent mounts are the sleekest and easiest way to prop up your phone in the car, and you can get two mounts from Aukey for $8 today with code AUKEYHT5. Even if you already have one in your own car (a pretty safe bet!), it's worth tossing an extra into your luggage to use in rental cars whenever you travel. They also work as makeshift phone stands if you use them at your desk, or on an airplane tray table.
---
The most versatile member of Anker's insanely popular PowerCore battery pack family pulls double duty as a USB wall charger, and you can get it for just $21 with promo code KINJAFSN.
I've owned the Fusion since it launched earlier this year, and it's an indispensable part of my bag. Now, rather than traveling with a wall charger, a battery pack, and a microUSB cable to recharge said battery, all I need is the Fusion and my Apple charging cables. You can read all of my impressions here, and then head over to Amazon to get yours for $21.
---
VPNs are in the news these days, and with good reason. So if you're curious to sign up and start protecting your browsing history and personal data (or, you know, getting around websites' geoblocks), NordVPN charges less per month than a typical trip to Starbucks.
NordVPN has long been one of the most popular and reliable VPN providers out there, and if you sign up for a one-year membership, promo code VIP70 will drop your annual price from $69 to $48. If you're sure you want to commit, use this link instead to get a special two year plan for $79 with code 2YSpecial2017. Lifehacker has recommended Nord in some previous guides, but if you have any firsthand experience with the service, sound off in the comments!
Top Home Deals
Anker makes smart light bulbs now, because of course they do, and today's your first chance to get them at a discount.
The standard 2700K white bulb is $3 off, down to $17, but I'd probably recommend paying a few bucks more for the tunable white model.
While both bulbs can be dimmed with your smartphone (even if your lamp doesn't have a dimmer), the tunable bulb can output just about any shade of white, from sunlight-simulating daylight to Edison-style warm white. It sounds like a small thing, but different shades of light can seriously boost your productivity, or help you relax when it's almost time for bed.
You can control either of these bulbs with your smartphone via the free Eufy Home app, but the real fun is controlling them with your voice via Alexa. Any Alexa-enabled device can do this, but we happen to have an exclusive discount on the Eufy Genie, which is very similar to an Echo Dot, only cheaper. Just use code KINJA000 at checkout to get it for $30.
---
If you're like me and didn't shell out the extra money for temperature-controlled seats last time you bought a car, you can now add those in for just $50 with promo code KY76786E. The Naipo Seat Cushion heats AND cools to keep you comfortable no matter the season.
The cushioned seat can plug in into your car's power outlet or into any normal wall plug for office or home use. $50 is small price to pay when you could be saying goodbye to back sweat forever.
---
If your spring cleaning doesn't involve revamping your home goods, what are you even doing? Add some awesome infographics to your walls with these $10 prints from Pop Chart Lab. Choose from five prints (A Visual Compendium of Hockey Jerseys, The Charted Sandwich Board, A Schematic of Structures, A Visual Compendium of Typewriters, and Exceptional Expressions of Espresso) and enter the code $10PRINTS at checkout.
You'll have to find a way to display them, though, as the poster rails and framing aren't included.
---
Before you work yourselves into a froth and unleash fury upon me in the comments, let me make one thing clear: I know bacon isn't meant to be cooked in the microwave. An oven will do a better job, or a skillet, or hell, even a machine gun. That being said, some mornings you just want some damn bacon, and you don't have time to cook it properly.
The Prep Solutions microwave bacon grill can nuke 7-9 strips at once, and its design allows the grease to drain off, ostensibly leaving you with something resembling crispiness. It's down to an all-time low $10 right now (albeit as an add-on item), and has a surprisingly great review average, so it might be worth trying out.
---
Tis' the season for hot tea. This Royal Kasite tea pot looks cool and is made from cast iron, making it crazy good at retaining heat. After brewing, this kettle keeps tea at proper serving temperature for up to an hour. Usually priced around $24, you can take this home for $19 today with promo code WNNVETID.
---
It might not be something you use on a daily basis, but a good label maker is a nice gadget to keep around, and the popular DYMO LabelManager 160 is back in stock for just $10 today, matching an all-time low.
If you remember the old label makers that literally pressed the letters into a piece of tape, this is a bit more advanced than what you're picturing. The Dymo LabelManager 160 can print in eight fonts at six sizes, along with clipart and special characters, and you can even preview the entire label on its LCD screen before you print. Every time we post this deal, it sells out quickly, so you'll want to grab yours quickly.
---
The Ninja Nutri Bowl Duo Blender usually sells for $100 but today is just $80 at Best Buy. You can use the larger bowl to puree vegetables, whip up multiple smoothies at once, or make cookie dough. Let's be honest with our ourselves, probably cookie dough.
---
This $6 taco holder seems nice, and it solves a real problem, but even if you have no intention of buying it, take a few minutes out of your day and go read the reviews. As our deal researcher, Corey, put it, "reviews on that make me feel like it can cure cancer."
---
You won't need it for a couple more weeks, but you might as well plan ahead to decorate your house for every holiday with just one $40 gadget, the greatest invention to happen to holiday decor in decades.
This waterproof LED projector comes with 12 different themes like spooky Halloween characters, Santa Claus, snowflakes, falling leaves, and Valentine's Day hearts. You can set the timer and reign in holiday spirit indoors or out.
---
Wool dryer balls are the hottest laundry invention of the decade, and you can get six of them for $8 today with promo code yazer777. Just toss them in your dryer, and your clothes will dry faster, come out softer, and have fewer wrinkles at the end of the cycle.
Top Lifestyle Deals
Sometimes, all you need to forget your troubles is the Wu Tang Clan and a trampoline. The Leftovers fans know what I'm talking about.
Several single person trampolines are on sale in today's Gold Box, and they all seem to use bungee cords rather than the metal springs they had when I was a kid, which is kind of horrifying, in hindsight.
---
I'm devastated to report that OXA has changed this product's Amazon description, but for posterity's sake, here's what it used to say:
ARE YOU A HAIRY APE?

No problem. Guys feel confident shirtless after using OXA Back Shaver. So, if you have "patchy" or "spotty" patches of hair on your back or body or if you are so hairy that you are often mistaken for being a "hairy ape" there is no job too great for the OXA Back Shaver.
I don't think back hair is why most men feel uncomfortable shirtless, but I digress.
This product looks very similar to the BaKlade, which we've written about before. It doesn't have many reviews to go off of, but it's less than 1/3 the price of the name brand with promo code VYKDXUWL, so it might be worth checking out if you're a HAIRY APE.
Another Gizmodo Media Group staff member (who shall remain nameless, but speculate away) bought this awhile back, and reports that it "does the job."
---
Dorco's insane razor discounts continue unabated this week with the Pace Power, just $3 with code KINJA918A. The Pace Power looks like a regular razor handle, but pop a AAA battery in there, and it can lightly vibrate to help lift hairs for an easier shave. It'll work with any of Dorco's standard cartridges, but this particular bundle includes a Pace 6 blade to get you started.
---
Amazon recently launched their Unique Finds section, which contain hand-picked and curated items across a ton of categories, like home goods, gadgets, apparel, and more. And now, Prime Members can grab a discount of 15% or more a select few brands. This month, they're featuring jewelry brands Slipada and La Regis Jewelry, handboard-maker Slyde, phone accessory company Mengo, and home goods brands Avvio and Willow & Everett.
---
Amazon's back at it again with the sample box deals. This time around, $10 gets you 10 or more protein products, plus a $10 credit on your next protein-related purchase from Amazon. If you were going to buy any of these products anyway, then this is a no-brainer.
Top Media Deals
Get Out was a lot more than a typical horror movie, so even if you aren't typically a fan of the genre, you should absolutely add it to your Blu-ray collection for $10. You also get a digital copy, and even an alternate ending.
---
---
Are you ready for some football (movies)? Amazon's offering big discounts on nearly a dozen football films for Prime members. Just make sure you're signed into a Prime account, click through to one of the movie pages, and you'll see the discounted price to add it to your Amazon Instant Video library.
---
iTunes gift card discounts are noticeably less common than they used to be, and while we do see 20% discounts from time to time, a $100 iTunes gift card for $85 is still a solid deal if you pay for apps, movies, Apple Music, or iCloud storage.
---
If you want to land a tech job, but are constantly held back by being a big ol' dummy, boy do we have a deal for you today.
Humble's latest ebook bundle includes 15 "For Dummies" books to help you with every aspect of landing a job, from writing your cover letter to learning basic python. As always, the books are split between three different tiers, but you can name your own price.
Top Gaming Deals
While certainly not perfect, I actually really enjoyed Mass Effect Andromeda. Plus, it's likely to be the last we see of Mass Effect for quite some time. I think it's absolutely worth $22 for the deluxe edition on PS4 and Xbox One.
---
Marvel vs. Capcom Infinite comes out tomorrow, which means today is your last chance to save 20% with Amazon Prime. I call playing as Rocket Raccoon.
---
One of life's cruelest jokes is that as a kid, you'd probably give your left arm to have a motorized, ridable toy car. But by the time you're old and decripit and have enough money to buy one, you're too big to fit inside, if not any less interested.
But you can still make some kid's birthday or holiday this year with Amazon's Power Wheels Gold Box, with motorized options starting at $140.
Update: Corey just turned me onto this.
---
You can load up your PS4's hard drive with a whole bunch of discounted digital games right now, courtesy of Amazon.
---
Start your own rebellion with this LEGO Star Wars Advent Calendar, down to just $35. With 24 different gifts, like Rey's speeder, an At-ST, a TIE Striker, Kylo Ren's Command Shuttle, and more. Even reenact The Force Awakens with the Jakku playmat (brooding Luke Skywalker on a cliff, not included). They also somehow made BB-8 even more adorable, by giving him a snowboard and hat, which is reason enough to buy this.
---
Humble's Capcom x SEGA x Atlus bundle is full of, uh, Capcom, Sega, and Atlus games for great low prices. Highlights here include Dead Rising, Resident Evil 4, and Motorsport Manager, just remember that you'll have to pay at least $12 to unlock all of the games.
Tech
Storage
Power
Audio
Home Theater
Computers & Accessories
PC Parts
Mobile Devices
Photography
Home
Kitchen
Tools & Auto
Lifestyle
Apparel
Beauty & Grooming
Camping & Outdoors
Fitness
Media
Movies & TV
Books
Gaming
Peripherals
PC
PlayStation 4
Xbox One
Toys