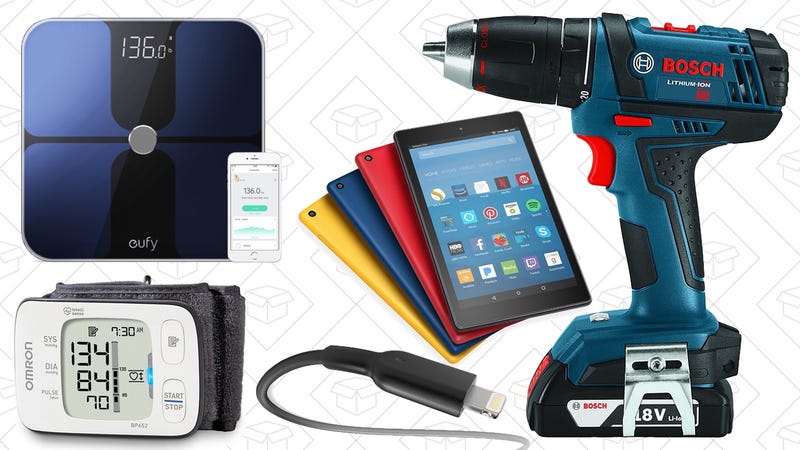 Eufy Smart Scale, Bosch Drills, Amazon's Fire Tablets, and Omron's Blood Pressure Monitor kick off Monday's top deals.
Bookmark Kinja Deals and follow us on Twitter to never miss a deal.
Top Tech Deals
Anker's PowerLine and PowerLine+ cables were already our readers' favorite charging cables, but the new PowerLine II line is even stronger, comes with a hassle-free lifetime warranty, and is a few bucks off on Amazon today.
We wrote more about the cables over on Gear, but the long and short of it is that between the extreme durability and the lifetime warranty, it's quite possible that this will be the last Lightning cables you ever have to buy. The 3′ model is the one on sale this week, in both black and white.
---
Ultimate Ears' MEGABOOM Bluetooth speaker is the extra large, waterproof version of the best Bluetooth speaker on the market, and Amazon's marked the Charcoal Black model down to $193 today, one of the best prices we've seen.
---
Amazon's entry-level Fire 7 tablet isn't exactly a powerhouse, but it's great for kids, or anyone that just wants a cheap portable screen to watch videos on planes or in cars, especially since it includes a microSD card slot for expandable storage. It's a bargain at its usual $50, but Prime members can get one today for just $35 (discount shown at checkout).
Amazon is also taking $25 off the Fire HD 8 for Prime members now, which is probably the better choice for most of you. An extra $20 gets you a bigger, sharper screen, 50% more battery life, stereo speakers, and double the storage.
Update: As pointed out by Brandon in our Kinja Deals Community Facebook group, you can buy up to four by buying one of each color, skirting the one-per-account limit.
---
You don't need to sell a kidney to afford noise-cancelling Bluetooth headphones; these 4 star-rated Cowin E-7s are just $40 right now, or $30 off with promo code UMZTDG9P.
They might not have the brand recognition of Sony or Bose, but these headphones pack in 30 hours of battery life, the ability to use them in wired mode if the battery dies, and yes, active noise cancellation that reviewers say works really well.
---
This 10,000mAh battery pack doesn't have Quick Charge or USB-C, but it does have the most important feature you can get in a battery pack: An incredibly slim design. Get it for just $13 with code AUKEYP28, while supplies last.
---
Amazon usually sells certified refurbished Echo Dots for $5 less than new models, but for now at least, that discount has increased to $12. Refurbished Dots still carry the same warranty as new ones, so there's really no downside to going this route if you want to sprinkle these around your home on a budget.
---
Portable battery packs with USB ports are a dime-a-dozen, but your options are a lot more limited if you need a portable AC outlet. The new Jackery PowerBar though is a great option at a solid price.
The PowerBar is a big battery pack, let's get that out of the way right off the bat. It's pretty similar in size to a tallboy beer can, albeit with flat sides, so you aren't going to be sticking this in your pocket. But in that package, you'll find a 20,800mAh battery pack, two USB ports (one of which features Quick Charge 3.0), a USB-C port that doubles as the input, and yes, a 100W AC outlet that can charge a laptop, power a lamp, or even run a small TV for a time.
Let's compare to this RAVPower pack, a larger version of which I've tested previously. The Jackery's AC outlet is more powerful (100W vs. 50W), it's cheaper ($115 with this deal vs. $146), and it recharges over USB-C, so you don't have to carry an extra proprietary charger to juice it back up. Wins all around.
For a limited time, our readers can preorder the PowerBar through Indiegogo for $115, or $14 less than the current Early Bird pricing tier for everyone else. It's not expected to ship until the holidays, but they sent me an early version, and it works as advertised.
---
Anker's take on the ubiquitous magnetic air vent smartphone mount comes with a twist. Or rather, a swivel. Get it for $8 with code YTXCPYKJ.
---
With its 24 hour battery life, iumpressive bass, and crystal clear sound quality, the Anker SoundCore has long been our readers' favorite affordable Bluetooth speaker. But its run may be at an end, because Anker just upgraded it with IPX5 water resistance, and you can get the new model for an all-time low $34 today with code SUNANK55.
The SoundCore 2 still includes dual drivers and that amazing 24 hour battery; the only real differences are a slightly tweaked design and the aforementioned water resistance. That means you can take it to the pool, the beach, or even the shower without fear.
---
VPNs are in the news these days, and with good reason. So if you're curious to sign up and start protecting your browsing history and personal data (or, you know, getting around websites' geoblocks), NordVPN charges less per month than a typical trip to Starbucks.
NordVPN has long been one of the most popular and reliable VPN providers out there, and if you sign up for a one-year membership, promo code VIP70 will drop your annual price from $69 to $48. If you're sure you want to commit, use this link instead to get a special two year plan for $79 with code 2YSpecial2017. Lifehacker has recommended Nord in some previous guides, but if you have any firsthand experience with the service, sound off in the comments!
Top Home Deals
A good drill is something everyone should own, and you can upgrade to this Bosch 18V for $79 today, complete with a bag and two batteries. This model rarely dips below $100, and has never been cheaper, so drill, baby, drill.
---
$24 is Amazon's lowest-ever listed price on these top-selling Bounty paper towels, but right now, an additional $2 coupon brings them down to a new low. You need paper towels anyway, so you might as well stock up.
---
Tea bags are basically filled with sawdust, but you can give loose leaf a try with today's Amazon Gold Box. For one day only, you can pick your favorite flavors from Vahdam for up to 60% off.
If you need help getting started, check out our guide to get up to speed on brewing methods and accessories.
---
Anker, producer of a lot of your favorite charging gear, has its own line of flashlights now, and you can get two of them for just $17 right now.
Anker, producer of a lot of your favorite charging gear, has its own line of flashlights now, and you can get two of them for just $17 right now.
---
No kitchen is complete without a good set of mixing bowls, and this 10-piece stainless steel collection (five bowls and five lids) is a steal at $28. They even have measurements etched on the inside so you end up with <very Great British Bake-Off voice> a good bake.
---
Vacuum insulated stainless steel is the best way to carry any beverage. It is known. And you can choose from two 17 ounce vessels for just $10 today on Amazon, including one that incorporates two small drinking glasses into the lid.
---
A rechargeable Cree LED flashlight for $18 would be a pretty good deal under any circumstances, but this one includes a seatbelt cutter, window hammer, and even a 10,400Ah USB battery charger. Plus, it includes IPX6 waterproofing, so you'll still be able to use it if you drive your car into a lake.
Top Lifestyle Deals
Amazon is looking out for your health today! Omron's Portable Blood Pressure Monitor is just $39 today. Especially great since this product rarely goes under $50. It alerts users who have irregular heart beats and stores up to 100 readings so you and your doctor can see any trends.
---
Merrell may be most known for their quality hiking footwear, and you can get a piece of that for less. Right now, they're running a Private Sale with a bunch styles of footwear for men and women, just in time for the hiking weather to start. Some styles have a couple colors to choose from as well, and even the leather boots for women are waterproof.
---
Anker unveiled its very first smart bathroom scale back in February, and we've only seen two discounts on it ever since. Until now.
In addition to functioning as a normal digital bathroom scale, the BodySense can measure metrics such as body fat percentage and body water, and sync all of that data over Bluetooth to your iOS or Android smartphone. You can see my impressions here, but it's the most seamless and reliable smart scale I've ever personally used, and a great deal at $40, or $10 less than usual.
Note: You'll need code EUFY9140 to get the deal on the black model, but the white model is available for $40 without a code.
---
A first aid kit is one of those things you should probably keep in your glove box, and you should definitely have at home, and at $11 for 131 pieces, there's no excuse not to be prepared for minor accidents.
It includes bandages, gauze, medicines, an instant cold pack, and more, all tucked away in a refillable soft pack. You can thank us later.
---
Post-Labor Day sale are hard to come by, but Nordstrom's Summer Sale actually goes all the way into the weekend. Pick up up to 40% off tons of styles, including a good amount of fall staples like button downs, sweaters, boots, and more. It'll help you cope with the fact that summer is basically over.
Top Media Deals
Logan was a stunningly great conclusion to Hugh Jackman's Wolverine series, and the Blu-ray is $5 off right now, if you still haven't picked it up. We saw it for $12 briefly back in June, but it's been holding steady at $20 for awhile now.
Top Gaming Deals
Fallout 4's Pip-Boy smartphone accessory was probably the most sought-after video game tie-in item of all time, but if you missed out a couple years ago, here's another chance to spend your caps.
Fallout 4 Game of the Year Edition comes out next month with the game and all of its DLC (much of which was excellent), and for $100 (or $80 at checkout if you have Prime), it'll come with a Pip-Boy too. We don't expect this to stay in stock for long.
---
Humble might be best known for its bundles, but its game store is actually pretty great, especially during the End of Summer Sale. A ton of games from various publishers are included, and for 48 hours only, you can even get The Walking Dead: Season 1 completely free, no strings attached.
Highlights of the sale include Civilization VI for $39 and XCOM 2 for $24, but it's worth browsing the full sale to find everything on your wishlist.
Tech
Storage
Power
Audio
Home Theater
Computers & Accessories
PC Parts
Mobile Devices
Home
Kitchen
Tools & Auto
Lifestyle
Apparel
Beauty & Grooming
Camping & Outdoors
Media
Movies & TV
Books
Gaming
Peripherals
PC
PlayStation 4
Xbox One
3DS
Board Games