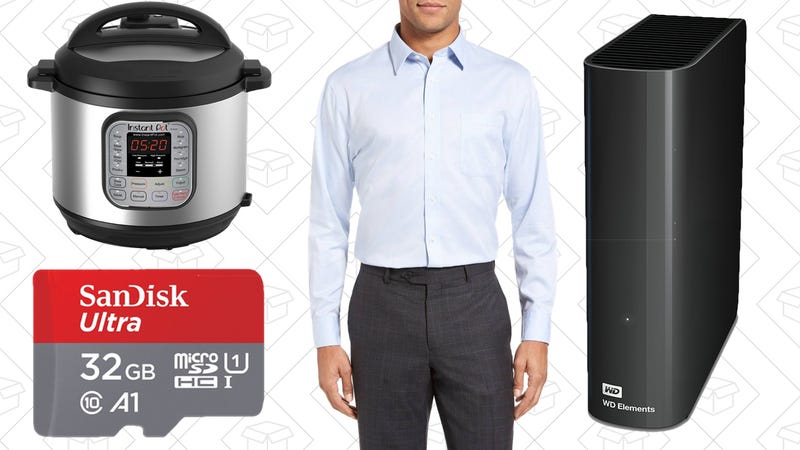 Computer storage from Amazon, Nordstrom's Summer Sale, the best deal on the Instant Pot we've seen in a while, and more lead today's best deals.
Bookmark Kinja Deals and follow us on Twitter to never miss a deal.
---
TOP TECH DEALS
Whether you need more places to store your files, or your home network isn't keeping up with your streaming habits, Amazon's got you covered with today's Gold Box.
Inside, you'll find a wide-ranging collection of deals broadly centered around storage and networking, including everything from flash drives to NAS enclosures and range extenders to routers. A few of our favorite deals are below, but head over to Amazon to see the rest. Just remember, these prices are only available today, and the best stuff could sell out early.
---
So you want to try a standing desk, but you're not ready to commit to it for eight hours a day…what do you do? You buy this Eureka monitor riser for $239, an all-time low. This riser arrives fully assembled, and just sits on top of your existing desk.
---
Anker's PowerCore battery packs are your favorite portable chargers, and it's not even close. And today only, the largest of those battery packs, the PowerCore 26800 is down to $50, about $10 less than usual. This model doesn't have Quick Charge, but it can keep your phone juiced up to 7 times on one charge. Plus, its dual microUSB inputs allow it to recharge twice as fast as a regular battery pack, which is important for one this massive.
---
There are lots of different ways to control your smart home devices, but Logitech's Pop might be the fastest, not to mention the most fun.
The Pop is a button. A button that does stuff. Three things in fact, depending on how you press it, and what it does is completely up to you. It can dim your lights. It can control your SONOS system. If you have a Logitech Harmony Hub (ahem), it can even control your home theater. Hell, it can even trigger an IFTTT recipe, meaning it can do basically anything.
The starter kit (which includes two buttons and a bridge) is down to $60 on Amazon right now, if you're willing to wait out a backorder. That's $40 less than usual, and an all-time low.
---
If price has been the barrier to entry keeping you from better audio, here's the first opportunity since Prime Day to grab Status Audio's CB-1s for their best price ever, $63.
Status is a direct-to-consumer headphone company, building great cans in proven form factors without the markup that comes with popular brands. In fact, there's no branding here whatsoever.
The CB-1s are extremely comfortable out of the box, more so (for me) than the ATH-M50X, MDR7506, SR60e, or V-MODA Crossfade Wireless, just to name a few off the top of my head (ha!).
The CB-1s have a (relatively) flat frequency response that's great for listening to a variety of music or audio/video editing, with a wide sound stage in a closed back design. I get good isolation/seal with the updated pads. The inclusion of two detachable cables- coiled and straight, is also generous and welcome. Even better that they smartly attach with a twist lock.
We know from five years of Kinja Deals that great over-ear, closed back headphones for under $70 is no joke. Depending on what you've shelled out for in the past, they might even blow away your much more expensive pairs.
---
With this $13 Mpow Streambot Bluetooth receiver, you can turn everything from your dusty old iHome to your legacy home theater system into a Bluetooth speaker. Just plug in the AUX jack, connect up to two devices, and start streaming.
---
Everyone should keep an inverter in their glove box for powering laptops and other electronics in the car, and you can choose from two different deals from Aukey today for $19 or less. The more expensive model puts out 300W, while the 150W version is designed to fit in your cupholder, which is cool I guess?
---
Anker's PowerDrive 2 Elite can output 12W on both ports simultaneously, and it looks really nice to boot. Grab one for $10 and put more power in car.
---
Featuring an eight foot power cord and 12 AC outlets, this Tripp Lite surge protector is exactly what you need behind your home theater or office desk for $23.
---
Amazon's popular Fire TV Stick never seems to be included whenever Amazon runs sales on their first party devices, and today's $5 discount is the first they've run since the holiday season last year. It doesn't support 4K like the full-sized Fire TV, but it does include a handy voice remote with full Alexa support.
Top Home Deals
It's 2017, and your vacuum shouldn't have a cord anymore.
This $85 vacuum is sold by Eufy (Anker's home division), and it runs for up to 50 minutes on a charge of its built-in lithium-ion battery. It's also slim enough to fit under a lot of furniture, and since it's sold by Anker, you even get a no-hassle 15 month warranty. Today's price is the best we've ever seen, and about $15 less than usual.
---
If you don't own a pressure cooker, today's a great day to fix that, as Amazon's knocked the highly-rated Instant Pot IP-DUO60 all the way down to $79 today. That's a rare discount from its usual $90, and the best price Amazon's listed all year.
If you're worried that you won't get a ton of use out of this thing, note that in addition to standard pressure cooking, this is also our readers' favorite slow cooker, and one of their favorite rice cookers too. To put a fine point on it: It's one of the most versatile kitchen gadgets you can own.
---
Nothing beats a massage after a tough day at work, and this $20 pillow includes four rotating massage nodes, infrared heating, and even an included car adapter so you can use it during your commute home. Now you won't have to debase yourself by using the massage chairs at your local Brookstone.
---
Can't get enough Purell? Amazon will sell you 36 mini bottles with jelly wraps for $24 today. Obviously, these are great for back-to-school season, but regular old germaphobes should also be able to put them to good use as well.
---
Anker's settings its sights on the affordable LED lighting market with the release of its Lumi night lights, and right now, you can save 20% automatically.
The stick-anywhere battery lights include a motion sensor to save power, while the plug-in lights will glow whenever it's dark.
Top Lifestyle Deals
Post-Labor Day sale are hard to come by, but Nordstrom's Summer Sale actually goes all the way into the weekend. Pick up up to 40% off tons of styles, including a good amount of fall staples like button downs, sweaters, boots, and more. It'll help you cope with the fact that summer is basically over.
---
Once you try modal underwear, you'll never go back, and it's extremely rare to find boxer briefs for under $6 per pair. Seriously, buy a bunch of these, and throw all your old underwear in the garbage.
Top Gaming Deals
Life is stressful these days, which is why we need games like Rime now more than ever. It looks pretty as hell, and lets you casually explore a beautiful island, solve puzzles, and find secrets at the pace of your choosing. Get it for an all-time low $20, while it lasts.
---
If you still haven't picked up an Xbox One S, $200 will get you a 500GB console (easily expandable with an external hard drive), Forza Horizon 3, and an extra controller from Newegg's eBay storefront.
Tech
Storage
Power
Audio
Home Theater
Computers & Accessories
PC Parts
Mobile Devices
Photography
Home
Kitchen
Tools & Auto
Lifestyle
Apparel
Camping & Outdoors
Fitness
Media
Movies & TV
Books
Gaming
PlayStation 4
Xbox One