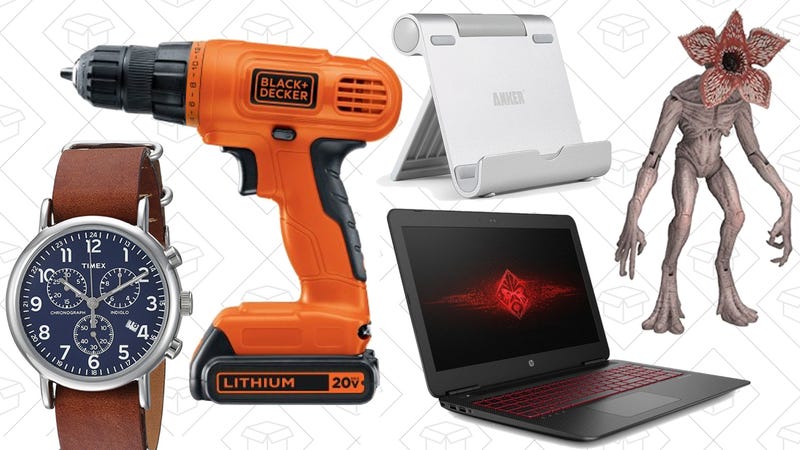 Amazon's one-day gaming PC sale, a bunch of discounted watches, and Stranger Things action figures lead off Wednesday's best deals from around the web.
Bookmark Kinja Deals and follow us on Twitter to never miss a deal.
Top Tech Deals
This aluminum Anker stand can prop up your phone or tablet at nine different angles, and it's only $8 today with the best promo code I've ever seen: GODSTAND. If your phone just sits flat on your desk like a paperweight all day, I see no reason not buy this.
---
VPNs have been in the news lately, and if you're ready to start protecting your online privacy, here's one of the best deals we've ever seen.
$38 would normally be a solid price for a year's subscription to a good VPN service, but today, that gets you a lifetime membership at Windscribe, which Lifehacker has given its stamp of approval. Just head over here to find the deal, and use promo code VPN4LIFE to knock the cost down to $38.
---
Range extenders aren't a cure-all for your home network, but if you have one or two spots in the house that just doesn't get good reception, they're an inexpensive way to fill in the gaps. This model from TP-Link has great reviews, and at $34 (after clipping the $10 coupon), it's never been cheaper.
---
The Galaxy S8 and S8 Plus get pretty good battery life, but it could always be better. These battery cases from ZeroLemon effectively double your smartphone's runtime for a measly $20; just be sure to choose the right model, and note the promo codes below.
---
This ultra-slim Bluetooth keyboard from Anker will work with pretty much any phone or desktop operating system, and as you'd expect from Anker, its built-in rechargeable battery runs for up to six months at a time.
---
TCL's P-series TV line is already one of the best deals in home entertainment, and today, you can save even more on the 55″ model with promo code TCLONKTLA.
That brings the set down to $600, which is $200 more than the equivalent TCL S-series deal that we posted last week. That extra money though gets you an upgrade to Dolby Vision HDR (the good one), 72 contrast zones for improved black levels, and a voice-control Roku remote with a built-in headphone jack; perfect if you're using this set in a bedroom.
---
If most Bluetooth earbuds ar too large or heavy to stay comfortably in your ears, iClever's lightest Bluetooth headphones are worth a look. The earbuds themselves weigh less than half an ounce each, and having tried them myself, they're just as light and comfortable as any wired headphones I've ever used. Get a pair for just $20 today with promo code VZQDWFA3.
---
You know those cool 360 videos you've seen on YouTube, or even in a VR headset? All you need to make your own is the Samsung Gear 360, and it can be yours for an all-time low $87 today.
Even if you don't have access to a helicopter or speed boat to capture truly jaw-dropping video, you could easily plop this thing into the middle of a party or get-together, and relive the whole thing in 360 degrees later. I wish I'd had one for my wedding.
---
We post a lot of deals on large USB battery packs, but more often than not, all you really need is a little bit of extra juice to get through a long day away from power outlets.
This 3350mAh RAVPower Luster battery is small enough to fit into pretty much any jeans pocket, and packs enough power to fully recharge an iPhone 7, or to give a significant boost to a larger phone. Get it for just $7 today with promo code KJAPB335.
---
Launched under Anker's home brand, Eufy, the Genie starts at $35- the lowest price so far on Amazon's analog, the Dot, but today the barrier to entry to the Alexa ecosystem gets even lower at just 30 bucks. Even better, new subscribers to Amazon Music Unlimited get three months free with their Genie purchase.
Read all about the Genie here:
---
Your laptop is one of the most expensive things you own, and it deserves to be treated as such. Rather than throwing it roughshod into your bag, slip it into one of PicasoLabs' beautiful, hand-stitched, personalized leather sleeves, now on sale for one of the first times ever.
Jesus Diaz raved about an earlier version of these, and interviewed the creator, on Gizmodo a few years ago, if you'd like to know more about the process behind them.
Our exclusive 20% discount applies to the Active series of cases, which are designed for the latest MacBooks, MacBook Pros, and iPads, and utilize special suspenders to keep your device secure while still leaving you access to your charging ports. You even get to pick from multiple colors of leather, and even engrave them with your name for free. Just use promo code KINJA20 at checkout to save.
Note: This promo code is only valid for 500 redemptions.
---
Humble's latest bundle features over 20 electronics and programming instructional books and magazines from Make:. As the publication's name might suggest, most of these focus on teaching you how to make something, be it wearable electronics, Arduino inventions, or even drones. As always, you can name your own price, but the titles are spread across three different price tiers.
Top Home Deals
Just in time for back to school season, this Black & Decker starter kit offers a ton of value for just $40.
That gets you a 20V drill, a battery, and all the bits you need to get started. There are definitely more powerful drills out there, but I've owned this one for years, and it's been perfectly adequate for basic tasks around the house. I don't think professional contractors would want to use it, but it's a perfectly good option for a student moving into a new apartment.
Just note that like all Gold Box deals, this price is only available today, or until sold out.
---
You spend 1/3 of your life in bed, so it only makes sense to buy pillows that you really love. Today on Amazon, two unique options from Langria are both on sale for just $22 each.
First up, this interesting dual sided pillow features supportive memory foam for your head, and fluffy fiber fill for your neck and shoulders. I'm not entirely sure how I feel about this, but you could always return it if it's not right for you.
Or, you could opt for this pillow-in-a-pillow. It's reminiscent of the Casper pillow, except the inner pillow is memory foam, which should give your head plenty of support while still feeling comfortable and soft.
Whichever one you choose, just be sure to use promo code YZJ9WST8 at checkout to save $18.
---
Vantrue's popular dash cams are back on sale, and this time around, you get to choose from a whopping six different models.
Even the $67 X1 has essential features like 1080p recording, motion-detecting parking mode, HDR, and a G-sensor to save your data after a collision, but each step up the line gets you improved optics (wider viewing angles, lower f-stops, higher resolution),while the N2 and N2 Pro both feature a second rear lens, and the N3 is actually a replacement for your rear view mirror, complete with a backup camera.
---
A big-ass duffle bag is something everyone should keep handy, and you can get an 80L bag for $18 today in the color of your choice, or upgrade to 100L for $6 more. Just be sure to note the promo codes below.
---
I bought an absurd amount of Mentos gum on Amazon a few months ago, not because I had any particular affinity for it, but because I just like to have gum in my car, and I had just run out. It turns out it was one of the best Amazon purchases I've ever made.
The hard Mentos shell is insanely satisfying to bite through, and the center of the gum gives you a blast of mint strong enough to open up your sinuses. It's not the longest lasting chewing gum out there, but that's okay, because it gives me an excuse to chase the dopamine kick from chomping into another piece.
Anyway! A whole bunch of Mentos gum, mints and candies are 35% off on Amazon right now, so you can try it out for yourself. Just go find your favorite flavor, and note that you won't see the discount until checkout.
My recommendation? A 6-pack of 50-piece Pure Fresh Mint for $10. These containers go for about $3 each at your local grocery store.
---
You've heard of Automatic's smart driving assistant, but if $80 is too rich for your blood, this cheap OBD2 dongle connects to any iPhone or Android device over Wi-Fi, and can fulfill many of the same functions using various third party apps.
---
Wool dryer balls are the hottest laundry invention of the decade, and you can get 10 of them for $13 today with promo code YYYZZZ11. Just toss them in your dryer, and your clothes will dry faster, come out softer, and have fewer wrinkles at the end of the cycle.
---
One of the most versatile LED lighting products you've ever seen is just $16 right now with promo code 44Z44XY8.
The Etekcity ROCO is a "bedside lamp, table lamp, camping lantern, nightlight, flashlight, work light, and emergency light" all rolled into one. It runs off a built-in battery. Tt can hang via the built-in strap, or attach to metal surface with its built-in magnets. It has three brightness levels and seven different lighting colors. Basically, if you need to illuminate something, the ROCO can do it.
---
If your tires are about due for a replacement, Discount Tire Direct is offering up to $100 in Visa gift card rebates (in addition to any manufacturer rebates) when you order four new tires, plus an additional $100 if you order wheels as well, plus an extra $60 on each if you use a Discount Tire credit card. Just enter your make and model, click the options to see tires on promotion, and you'll see the rebate amount (either $25, $75, or $100) on the right hand side.
---
Summer's still beating us over the head, and if your home or office is feeling a little stuffy, this popular Honeywell desk fan has never been cheaper. I've used this exact fan on my nightstand for years, and can confirm that it blows air quite well.
---
Yi, manufacturer of your favorite affordable action cam, also makes a home IP security camera, and you can pick it up for just $29 today with promo code DTZR9KOE the best deal we've ever seen.
The Yi Home Camera includes all the basic features you'd expect, including two-way audio, automatic activity alerts to your phone, and remote monitoring. And unlike other companies that rely on cloud storage and monthly fees, the Yi stores your files on an onboard microSD card, no membership required.
Top Lifestyle Deals
In my opinion, a classic wristwatch still looks better than any smartwatch, any day. Today only in preparation for back-to-school, pick up the a new timepiece from brands like Casio, Nixon, Timex (including the popular Weekender), and more for men, women, and kids. But time's a-tickin' on this deal and these prices only last until the end of the day.
---
What better way to get ready for the better weather than discounted Under Armour Outlet gear? Take an extra 30% off practically every style you can think of, no code needed. From the classic Under Armour long-sleeves to training shoes to their Threadborne microthread technology, this gear is perfect for running outside in the warmer months.
---
The REI Labor Day Sale, one of the retailer's biggest sale of the year, is here. Get up to 40% off on an almost overwhelming amount of outdoor gear, from camping, to paddling, to hiking, to cycling, and everything in between. It'll take some time to sort through everything, so you'd better get started now.
---
Uniqlo is celebrating Labor Day a week early with their Labor Day sale. There is a lot to look through, for both men and women, so it's a good thing it lasts for three days. Enjoy $2 socks, $8 boxer briefs, and $10 graphic tees. Plus, stock up on staples for fall at a discount like an Ultra Light Down vest and the ever-comfortable flannel button downs.
---
You probably already got your Bean boots from last year and are ready for whatever 2017 throws at you (weather-wise, at least). But if you need to replace a few things, or stock up on some trans-seasonal styles, L.L.Bean is giving you an additional 20% off everything on sale, to stave off the winter weather in the best way they know how.
---
The weather is actually nice, and Mountain Hardwear has the apparel and gear for you to enjoy it. Take 50% off select styles as part of their Summer Sale (even if it's a bit late in the season). Go climb a mountain or hike a trail. Or just look like you do those things while walking the dog.
Top Media Deals
Stranger Things doesn't come back until Halloween, but in the meantime, you can adorn your desk with these awesome action figures. I only have one question: Where's Barb?
Top Gaming Deals
If your current rig is on its last legs, or if you just want a relatively affordable way to get into PC gaming, Amazon's HP Omen Gold Box has some deals for you.
Inside, you'll find a half dozen gaming PC towers and laptops all marked down to $949 or less, despite some pretty impressive specs in most cases. The catch is that they're all certified refurbished, but even so, today's prices are hundreds of dollars less these models' usual refurb prices.
The laptop and desktop that I believe offer the most bang for the buck are below, but head over to Amazon to see the rest. And remember, these prices are only available today, or until sold out.
---
Update: This is back in stock, if you missed it last week.
If you own an Xbox One, you'll probably spend some money on games, DLC, and movie downloads eventually, so you might as well save 10% when you have the chance. We don't know how long this will last, but Amazon's currently taking 10% off Xbox gift cards in denominations of $100, $70, $60, $40, $30, and $10, with instant email delivery.
---
If you're fortunate enough to own a Nintendo Switch, you'd damn well better take good care of it. This hardside carrying case includes a clever screen protector that also holds up to ten game cartridges, plus an extra mesh pocket for your other accessories.
---
If you still haven't picked up an Xbox One S, $240 today will get a a 500GB console (easily expandable with an external hard drive), Battlefield 1, For Honor, and even an extra controller.
---
If you own a Nintendo Switch, you need to own a copy of Mario Kart. Get it for $47 from Rakuten today, the best price we've seen to date. Just be sure to order your copy before this deal gets blue shelled.
---
Update: For $4 more, you can get the new base pack plus the College Pack. That's a $5 savings vs. buying them both individually.
Cards Against Humanity just released the 2.0 version of their base game box, complete with 150 new cards, and it's currently in stock on Amazon. That probably won't be the case for long. Just don't blame us for any discomfort if you play this with your parents.
---
In addition to yesterday's ebook bundle, Humble just launched a new Jumbo gaming bundle, with seven games (for now) available for the price of your choice. Highlights include Verdun and The Flame in the Flood, but head over to Humble to see the complete list.
Tech
Storage
Power
Audio
Home Theater
Computers & Accessories
PC Parts
Mobile Devices
Home
Kitchen
Tools & Auto
Lifestyle
Apparel
Media
Movies & TV
Books
Gaming
Peripherals
PC
PlayStation 4
Xbox One
Toys