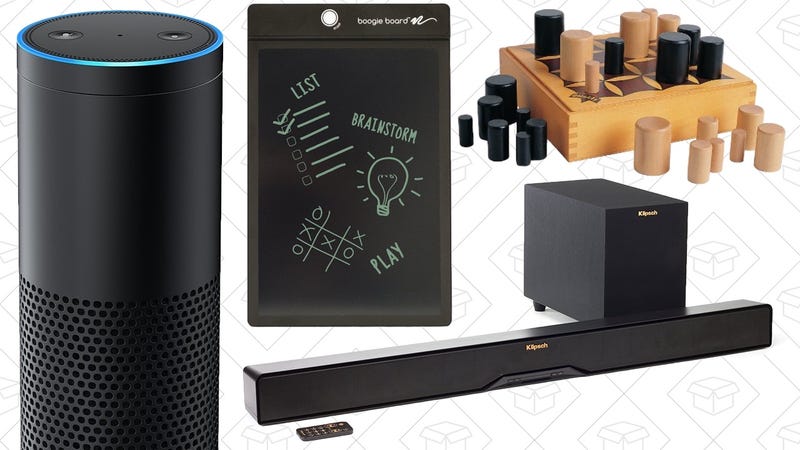 Amazon's second straight tech sale, half off a popular sound bar, and Gobblet lead off Wednesday's best deals from around the web.
Bookmark Kinja Deals and follow us on Twitter to never miss a deal.
Top Tech Deals
Hot off the heels of yesterday's storage and networking Gold Box, Amazon's running a new one-day sale today on things that could broadly be considered PC accessories.
Note: This deal doesn't seem to open properly on mobile devices. You'll need to browse on a computer until they fix it.
A few of our favorite deals of the bunch are below, but head over to Amazon to see the rest. Just remember that these prices are only available today, and the best stuff could sell out early.
---
Eero basically invented the mesh router market, and their new wireless system is a marked improvement from the already impressive original.
Amazon's currently offering the Eero Pro 3-pack (which contains three full base stations, rather than the less-powerful beacons) for $440. That's a big chunk of change, but it's $60 less than MSRP, and an all-time low. Unless you live in a large house, or one with thick, Wi-Fi blocking walls, you probably don't need this. But if you do, it's a great deal.
---
Update: Non-refurbs are also available from QVC for $75, with two months of Amazon Music Unlimited and Audible.
If you've been itching to get an Amazon Echo (and you really should get one), but balk at the $180 price tag, Amazon's offering up certified refurbs for $80 right now, by far the best price we've ever seen.
Amazon's certified refurbished products are all inspected and tested to work like new, and include the same one-year warranty you'd get with a brand new product, so there's really no downside to going this route.
---
If yesterday's $270 Klipsch sound bar deal was still a little above your price range, here's another option for just $130, today only.
This Klipsch Reference sound bar includes a wireless subwoofer, a bunch of different audio modes for different types of content, and even Bluetooth, so you can use it as the biggest and best-sounding Bluetooth speaker in your house. Its price typically bounces between around $250 and $300, and today's Gold Box deal is an all-time low. Just don't expect it to last.
---
Aukey's tiny USB car charger is a reader favorite, but this RAVPower model is the same size and puts out the same 4.8A of power over two ports, and it's only $5 today with code KINJA906. Even if you have a perfectly good car charger already, it might be worth adding this one to your luggage for rental cars.
---
Anker's PowerCore battery packs are your favorite portable chargers, and it's not even close. And today only, the largest of those battery packs, the PowerCore 26800 is down to $50, about $10 less than usual. This model doesn't have Quick Charge, but it can keep your phone juiced up to 7 times on one charge. Plus, its dual microUSB inputs allow it to recharge twice as fast as a regular battery pack, which is important for one this massive.
---
If your phone supports Quick Charge, I see no reason not to buy this dual port charger for $6. Its Quick Charge port is only of the 2.0 variety, but that's still way faster than a typical charging port, even if it falls slightly short of 3.0 speeds.
---
If price has been the barrier to entry keeping you from better audio, here's the first opportunity since Prime Day to grab Status Audio's CB-1s for their best price ever, $63.
Status is a direct-to-consumer headphone company, building great cans in proven form factors without the markup that comes with popular brands. In fact, there's no branding here whatsoever.
The CB-1s are extremely comfortable out of the box, more so (for me) than the ATH-M50X, MDR7506, SR60e, or V-MODA Crossfade Wireless, just to name a few off the top of my head (ha!).
The CB-1s have a (relatively) flat frequency response that's great for listening to a variety of music or audio/video editing, with a wide sound stage in a closed back design. I get good isolation/seal with the updated pads. The inclusion of two detachable cables- coiled and straight, is also generous and welcome. Even better that they smartly attach with a twist lock.
We know from five years of Kinja Deals that great over-ear, closed back headphones for under $70 is no joke. Depending on what you've shelled out for in the past, they might even blow away your much more expensive pairs.
---
Everyone should keep an inverter in their glove box for powering laptops and other electronics in the car, and you can choose from two different deals from Aukey today for $19 or less. The more expensive model puts out 300W, while the 150W version is designed to fit in your cupholder, which is cool I guess?
---
Amazon's popular Fire TV Stick never seems to be included whenever Amazon runs sales on their first party devices, and today's $5 discount is the first they've run since the holiday season last year. It doesn't support 4K like the full-sized Fire TV, but it does include a handy voice remote with full Alexa support.
Top Home Deals
Raising a kid is expensive enough as it is, so Amazon's throwing parents a lifeline with today's Graco Gold Box. Save big on a wide selection of car seats, strollers, high chairs, cribs, and more from one of the industry's most trusted brands. Just remember that these prices are only available today, so don't start crying if you miss out.
---
Summer doesn't have to end yet! Mega chill with up to 45 ice cold drinks floating around the pool with you for just under $10.
This is the cheapest price we've seen since spring, so might be worth stocking up for next year.
---
It's 2017, and your vacuum shouldn't have a cord anymore.
This $85 vacuum is sold by Eufy (Anker's home division), and it runs for up to 50 minutes on a charge of its built-in lithium-ion battery. It's also slim enough to fit under a lot of furniture, and since it's sold by Anker, you even get a no-hassle 15 month warranty. Today's price is the best we've ever seen, and about $15 less than usual.
---
Why measure distances with a tape measure when you can measure them with a laser? This Bosch laser measure is one of the smallest you can buy, and measure up to 35′ with accuracy down to 1/8″.
---
Nothing beats a massage after a tough day at work, and this $20 pillow includes four rotating massage nodes, infrared heating, and even an included car adapter so you can use it during your commute home. Now you won't have to debase yourself by using the massage chairs at your local Brookstone.
---
Anker's settings its sights on the affordable LED lighting market with the release of its Lumi night lights, and right now, you can save 20% automatically.
The stick-anywhere battery lights include a motion sensor to save power, while the plug-in lights will glow whenever it's dark.
Top Lifestyle Deals
Anthropologie will always be a good destination to start looking for something unique. With an extra 25% off sale styles, no code needed, that uniqueness is that much more affordable. Just add your new stuff to the cart and you'll see the discount when you checkout.
---
Post-Labor Day sale are hard to come by, but Nordstrom's Summer Sale actually goes all the way into the weekend. Pick up up to 40% off tons of styles, including a good amount of fall staples like button downs, sweaters, boots, and more. It'll help you cope with the fact that summer is basically over.
---
College student or not, take full advantage of all the kids stocking up their dorm rooms with this Amazon deal on cheap beauty, personal care, and household cleaning supplies. Spend $35 on items featured on this page, add this deal to your cart, and receive a $10 Amazon gift card in the mail. The deal mostly features 7th Generation and Dove products – everything from laundry and dishwasher detergents, to diapers and value packs of deodorant and shampoo. Exclusive to Prime members.
---
We've posted a lot of deals lately on these coccyx seat cushions, but $15 is one of the best prices we've seen to date. Just use promo code KINJACOMFORT at checkout to get the deal. These will improve posture and ease back pain in any chair where you spend a lot of time, from the office to the car to a long flight.
Need one for your lower back too? This lumbar pillow is also $15, with the same KINJACOMFORT promo code.
---
Once you try modal underwear, you'll never go back, and it's extremely rare to find boxer briefs for under $6 per pair. Seriously, buy a bunch of these, and throw all your old underwear in the garbage.
Top Media Deals
The Expanse was io9's favorite TV show of 2016, and the book that inspired the first season is just $3 on Kindle right now.
---
It's not exactly a second season, but Firefly fans should still be excited to see that the show is getting a special edition 15th anniversary Blu-ray release this month, and you can save a few bucks off MSRP by preordering.
Details are a bit hard to find, but it appears that the contents of the discs are unchanged from the original release. That said, the set does include some nice box art, a map of the Verse, and what appears to be small posters of all the cast members? If you have more information, please share it in the comments.
Top Gaming Deals
Whenever I go back to my parents' house for family get-togethers, Gobblet is our game of choice, at least until we start drinking and playing Cards Against Humanity. It's like Tic-Tac-Toe, if Tic-Tac-Toe involved strategy, memory, and could take over 15 minutes per game. It rarely dips below $20, so you should buy it today.
---
This PS4 Slim deal doesn't include any extra controllers, or even any games – it's just a straight cash discount, and one of the best we've seen. Use code 63GOSHOP to save $75, while supplies last.
---
If you still haven't picked up an Xbox One S, $200 will get you a 500GB console (easily expandable with an external hard drive), Forza Horizon 3, and an extra controller from Newegg's eBay storefront.
Tech
Storage
Power
Audio
Home Theater
Computers & Accessories
Home
Kitchen
Tools & Auto
Lifestyle
Apparel
Beauty & Grooming
Camping & Outdoors
Fitness
Media
Movies & TV
Books
Gaming
Peripherals
PC
PlayStation 4
Xbox One
Toys