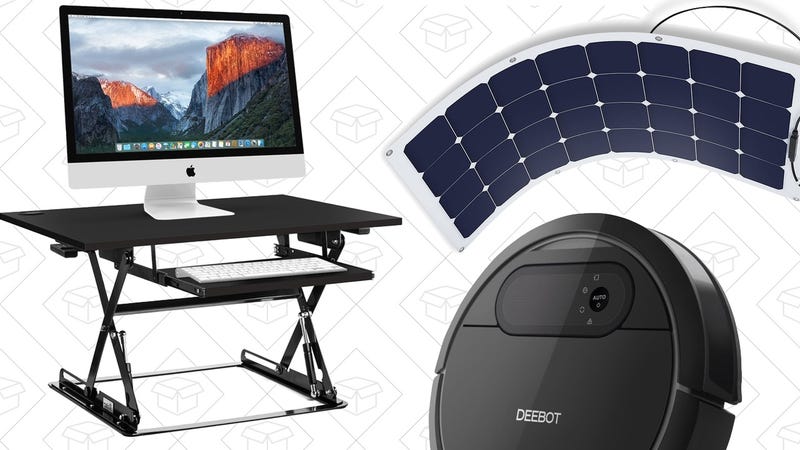 A $99 standing desk riser, the cheapest robotic vacuum we've seen, and 100W solar panels lead off Thursday's best deals from around the web.
Bookmark Kinja Deals and follow us on Twitter to never miss a deal.
Top Tech Deals
They say solar power is getting cheaper and cheaper, and Amazon's hastening the trend with today's Gold Box.
These 100W panels are ideal for RVs, boats, golf carts, tool sheds, or any other smallish application, and they can even flex up to 30 degrees to contour to whatever you're installing them on. You'll still need a charging controller, a battery, and an inverter, but you can find some suggestions in Amazon's related items, if you don't already have them.
Today's price is about $40 less than usual, and an all-time low, and you can save an extra 5% when you buy two, or 10% when you buy five. Just check out the special offers section on the page for details.
---
Giant plugs that cover up half the outlets on your power strip should be outlawed, but until that day arrives, these short extension cords will have to do. $14 gets you a pack of 10, which should be enough for even the most advanced home theater setups.
---
Most laptops don't have CD drives anymore, which is mostly fine, except for that one time that inevitably pops up every year or two where you really wish you had one. Now, you can for just $25, no extra power cable required.
---
Anker's take on the ubiquitous magnetic air vent smartphone mount comes with a twist. Or rather, a swivel. Get it for $8 with code YTXCPYKJ.
---
With its 24 hour battery life, iumpressive bass, and crystal clear sound quality, the Anker SoundCore has long been our readers' favorite affordable Bluetooth speaker. But its run may be at an end, because Anker just upgraded it with IPX5 water resistance, and you can get the new model for an all-time low $34 today with code SUNANK55.
The SoundCore 2 still includes dual drivers and that amazing 24 hour battery; the only real differences are a slightly tweaked design and the aforementioned water resistance. That means you can take it to the pool, the beach, or even the shower without fear.
---
Reduce eye fatigue and make your living room a little more futuristic – win, win! These Vanksy Bias Lights backlight your TV to reduce the strain your eyes can undergo when watching a bright TV in a dark room.
We've posted these Vansky Bias Lighting several times but today's prices at $12 and $10 are the lowest ever.
---
Update: Non-refurbs are also available from QVC for $75, with two months of Amazon Music Unlimited and Audible.
If you've been itching to get an Amazon Echo (and you really should get one), but balk at the $180 price tag, Amazon's offering up certified refurbs for $80 right now, by far the best price we've ever seen.
Amazon's certified refurbished products are all inspected and tested to work like new, and include the same one-year warranty you'd get with a brand new product, so there's really no downside to going this route.
---
Aukey's tiny USB car charger is a reader favorite, but this RAVPower model is the same size and puts out the same 4.8A of power over two ports, and it's only $5 today with code KINJA906. Even if you have a perfectly good car charger already, it might be worth adding this one to your luggage for rental cars.
---
If your phone supports Quick Charge, I see no reason not to buy this dual port charger for $6. Its Quick Charge port is only of the 2.0 variety, but that's still way faster than a typical charging port, even if it falls slightly short of 3.0 speeds.
---
If price has been the barrier to entry keeping you from better audio, here's the first opportunity since Prime Day to grab Status Audio's CB-1s for their best price ever, $63.
Status is a direct-to-consumer headphone company, building great cans in proven form factors without the markup that comes with popular brands. In fact, there's no branding here whatsoever.
The CB-1s are extremely comfortable out of the box, more so (for me) than the ATH-M50X, MDR7506, SR60e, or V-MODA Crossfade Wireless, just to name a few off the top of my head (ha!).
The CB-1s have a (relatively) flat frequency response that's great for listening to a variety of music or audio/video editing, with a wide sound stage in a closed back design. I get good isolation/seal with the updated pads. The inclusion of two detachable cables- coiled and straight, is also generous and welcome. Even better that they smartly attach with a twist lock.
We know from five years of Kinja Deals that great over-ear, closed back headphones for under $70 is no joke. Depending on what you've shelled out for in the past, they might even blow away your much more expensive pairs.
---
---
Amazon's popular Fire TV Stick never seems to be included whenever Amazon runs sales on their first party devices, and today's $5 discount is the first they've run since the holiday season last year. It doesn't support 4K like the full-sized Fire TV, but it does include a handy voice remote with full Alexa support.
Top Home Deals
You spend 1/3 of your life in contact with a pillow, so it had better be a good one. Amazon is running a one-day sale on pillows for any kind of sleeper (even car sleepers). Try out a memory foam or gel latex one, or grab a classic, down alternative pillow. The world is your plush, pillowy oyster. Though, you can't hit the snooze button on these deals, they'll be gone at the end of the day.
---
Raise a glass to this kitchen gadget that essentially pays for itself in one use. The $7 Vacu Vin Wine Saver sucks all the air out of your unfinished wine and keeps it fresh for up to a week. As a person who would normally re-use the original wine cork to seal off leftover wine, this works about 9,000 times better and saves me from the instant regret of drinking wine/vinegar hybrid.
---
Vacuuming is simultaneously the worst chore, and the chore most easily pawned off to a robot. How convenient!
While it lacks the brand recognition of a Roomba, and we can't personally vouch for them like we can for the Eufy RoboVac 11, this ECOVACS vacuum has solid reviews, and are insanely affordable today at $135 with promo code 3HVO96O6. That's a match for a Gold Box deal from July, and one of the best prices we've seen on any robotic vacuum.
---
We'll probably be a Russian colony soon, so you might as well start assimilating to the culture by buying a dash cam. This one from Aukey includes a 1080p Sony sensor and 170 degree field of view, two different mounting options, and capacitors that are rated to work in temperatures from -4°F to 149°F.
---
You guys buy boatloads of IR thermometers whenever we post a deal, and it's easy to see why. They're a ton of fun to mess around with, and can come in handy for everything from cooking to home energy savings.
If you still don't own one, you can rectify that for just $12 today. This one even comes with a holster!
---
Not only does this 6-quart Crock-Pot come with a digital timer to program cooking times, it also ships with an adorable 16 ounce heated dipper to serve dips and sauces at the table. $28 would be a great price for the Crock-Pot on its own, so be sure to dip into this deal now.
---
If you're smart home-curious, but don't want to get heavily invested in Philips' expensive Hue lighting system, TP-Link's hub-free smart bulbs are a nice alternative.
For a limited time, save $3 on their dimmable white bulb with promo code 3TPLINKSAVE. This bulb can't change colors at all, but you can control and dim it with your smartphone, or even Alexa, and unlike Hue bulbs, you don't need a hub.
---
Summer doesn't have to end yet! Mega chill with up to 45 ice cold drinks floating around the pool with you for just under $10.
This is the cheapest price we've seen since spring, so might be worth stocking up for next year.
---
Just in case you're in the 1% of the population who hasn't heard, the seemingly innocent action of sitting down all day is shortening your life.
With this absolute rock bottom price (we've never seen one under $100), you have no excuse not to get off your butt. This height adjustable standing desk is just $99 with code WIEVFKZG and turns almost any desk into a standing desk.
A standing desk community welcome packet:
h/t Ralph Streicher
---
It's 2017, and your vacuum shouldn't have a cord anymore.
This $85 vacuum is sold by Eufy (Anker's home division), and it runs for up to 50 minutes on a charge of its built-in lithium-ion battery. It's also slim enough to fit under a lot of furniture, and since it's sold by Anker, you even get a no-hassle 15 month warranty. Today's price is the best we've ever seen, and about $15 less than usual.
---
Nothing beats a massage after a tough day at work, and this $20 pillow includes four rotating massage nodes, infrared heating, and even an included car adapter so you can use it during your commute home. Now you won't have to debase yourself by using the massage chairs at your local Brookstone.
---
Anker's settings its sights on the affordable LED lighting market with the release of its Lumi night lights, and right now, you can save 20% automatically.
The stick-anywhere battery lights include a motion sensor to save power, while the plug-in lights will glow whenever it's dark.
Top Lifestyle Deals
Philips' entry-level Sonicare Essence electric toothbrush has long been a reader favorite, and now Amazon's running the best deal we've seen on the sequel, the Essence+.
The big improvement here is the brush head: Rather than the screw-on E-series heads (which have a tendency to collect sludge along the seam), the Essence+ uses standard Sonicare snap-on heads. The upshot is that you get a lot more choices: Philips sells seven different options for different budgets and brushing styles.
For a limited time, Amazon's taking $10 off the brush's standard $40 price tag. Just be sure to clip the coupon, and note that you won't see the final price until checkout.
---
While the summer temps are still lingering, Columbia is here to help you prep for the cool down. Take up to 25% off a ton of outwear, shirts, pants, shoes, and more during the last days of their Labor Day Sale. If you plan on hiking, camping, or just generally being outside for the start of fall, this sale can help outfit you for a whole lot less.
---
Post-Labor Day sale are hard to come by, but Nordstrom's Summer Sale actually goes all the way into the weekend. Pick up up to 40% off tons of styles, including a good amount of fall staples like button downs, sweaters, boots, and more. It'll help you cope with the fact that summer is basically over.
---
College student or not, take full advantage of all the kids stocking up their dorm rooms with this Amazon deal on cheap beauty, personal care, and household cleaning supplies. Spend $35 on items featured on this page, add this deal to your cart, and receive a $10 Amazon gift card in the mail. The deal mostly features 7th Generation and Dove products – everything from laundry and dishwasher detergents, to diapers and value packs of deodorant and shampoo. Exclusive to Prime members.
Top Media Deals
It's not exactly a second season, but Firefly fans should still be excited to see that the show is getting a special edition 15th anniversary Blu-ray release this month, and you can save a few bucks off MSRP by preordering.
Details are a bit hard to find, but it appears that the contents of the discs are unchanged from the original release. That said, the set does include some nice box art, a map of the Verse, and what appears to be small posters of all the cast members? If you have more information, please share it in the comments.
Top Gaming Deals
Update: Best Buy has black controllers with PC adapters for $28!
When Sony rolled out the new PS4 Slim and PS4 Pro, they also quietly tweaked the DualShock 4 controller, and here's another chance to get it for $40.
This is basically the same gamepad you know and love, but with a futuristic looking light bar at the top of the touchpad, and the ability to communicate over USB when plugged into your console for lag-free input.
---
If you're drone-curious, but not drone-rich, this Syma quadcopter will give you a taste of the skies for under $100. That includes a 720p camera, live streaming to your phone, and some semi-advanced flight features like the ability to maintain altitude without fiddling with the left stick.
---
If you own a compatible phone, the Samsung Gear VR is practically a must-buy accessory for $100. But for $20 (albeit for a refurb), you'd be crazy not to pick it up.
This model is compatible with the Galaxy Note 5, plus the Galaxy S6, S6 edge, S6 edge+, S7, and S7 Edge. Just clip your phone into place, and enjoy 3D photos, hundreds of games, a virtual cinema, and more from the Oculus VR store. It's a shame it won't work with newer Samsung phones, but if you still own a compatible headset, $20 is a fantastic price.
Tech
Storage
Power
Audio
Home Theater
Computers & Accessories
PC Parts
Mobile Devices
Photography
Home
Kitchen
Tools & Auto
Lifestyle
Apparel
Beauty & Grooming
Camping & Outdoors
Fitness
Media
Movies & TV
Books
Gaming
Peripherals
PC
PlayStation 4
Xbox One
Toys