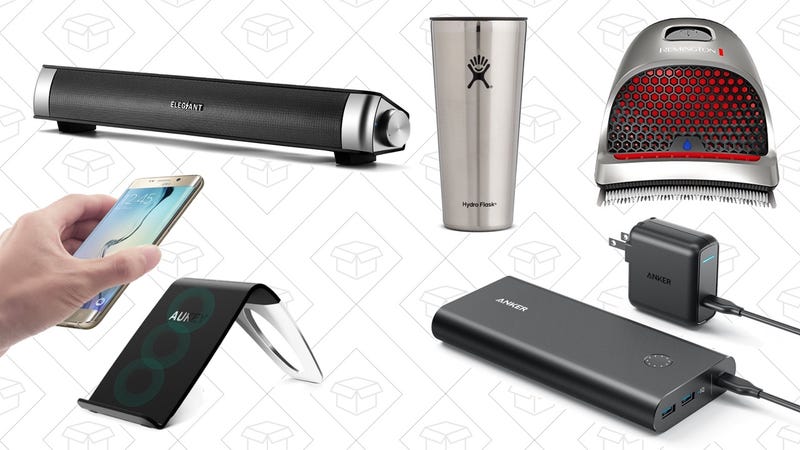 Elegiant's USB Soundbar, Hydro Flask Tumblers, Remington's Gold Box, and Anker's USB-C Battery Pack are today's top deals.
Bookmark Kinja Deals and follow us on Twitter to never miss a deal.
Top Tech Deals
Anker's reader-favorite PowerCore battery packs run the gamut from tiny tubes that fit into your pocket to massive blocks of energy that can power your devices for days at a time. Today's exclusive deal focuses very clearly on the latter.
The PowerCore+ 26800 is one of the few battery packs on the market with USB-C Power Delivery up to 27W. That means it can charge a 12″ MacBook at nearly full speed, a Nintendo Switch at full power while you're playing Zelda on a plane, or an iPad Pro significantly faster than the charger it came with (if you have a USB-C to Lightning cable).
Power Delivery works both ways too, so you can actually recharge the entire battery pack in just 4.5 hours with the included 27W USB-C wall charger, compared to over 11 hours with a standard 2A USB charger. When you're trying to juice up before a flight, every minute counts.
The PowerCore+ also includes two high speed standard USB ports that you can use simultaneously, which is good, because this thing has enough power to share. We had a hands on with the pack when it launched back in April, and you can see our impressions here.
This battery cost $100 at launch, and has been selling for $110 as of late. Our exclusive $88 deal is the first promo code they've ever offered on this pack, and an all-time low price, so if it's been on your wish list, don't hesitate.
---
If you still listen to audio through your computer's built-in speakers, this deal's for you. It's a small, USB-powered sound bar designed just for computers (though I could also see using it with, like, a bedroom TV). Just plug in the USB port for power and the 3.5mm jack for audio, and boom: Instant audio upgrade. You can even plug in the microphone jack to use it for conference calls and the like.
---
You might have heard vague rumblings yesterday about some new phones that support Qi wireless charging, so whether you're buying your first charging pad, or you've enjoyed the feature for years, this $15 Qi stand is a great deal. Unlike most Qi pads, this one has three charging coils, so it should line up with any phone, and it also doubles as a stand.
Update: Here's a regular Qi pad for $10 as well.
---
The new iPhones finally support Quick Charge! Well, they support quick charging…if you have a USB-C Power Delivery charger and a USB-C to Lightning cable.
These Aukey USB-C wall chargers will charge your iPhone 8 or X faster, as well as your Nintendo Switch, your MacBook, your iPad Pro, and more. The 27W model is only $18, compared to $49 for the 29W charger Apple ships with the 12″ MacBook. The $28 46W charger doesn't have a close analog from Apple, but they charge $69 for a 61W charger designed for 13″ MacBook Pros.
---
$12 is a great price for any 4-port, 34W USB travel charger, but it's especially noteworthy for one that includes detachable EU and UK plug adapters. Now you can keep your phone running when you travel abroad for vacation and/or flee the country.
---
Amazon's entry-level Fire 7 tablet isn't exactly a powerhouse, but it's great for kids, or anyone that just wants a cheap portable screen to watch videos on planes or in cars, especially since it includes a microSD card slot for expandable storage. It's a bargain at its usual $50, but Prime members can get one today for just $35 (discount shown at checkout).
Amazon is also taking $25 off the Fire HD 8 for Prime members now, which is probably the better choice for most of you. An extra $20 gets you a bigger, sharper screen, 50% more battery life, stereo speakers, and double the storage.
Update: As pointed out by Brandon in our Kinja Deals Community Facebook group, you can buy up to four by buying one of each color, skirting the one-per-account limit.
---
Amazon usually sells certified refurbished Echo Dots for $5 less than new models, but for now at least, that discount has increased to $12. Refurbished Dots still carry the same warranty as new ones, so there's really no downside to going this route if you want to sprinkle these around your home on a budget.
---
There have been a lot of deals lately on Apple's W1-equipped Beats headphones, but $110 for a pair of BeatsX is within $10 of an all-time low, and a fantastic deal for iPhone owners that want an AirPods-like pairing experience on a budget.
From Gizmodo:
"The Beats X are the third product from Beats (and the fourth from all of Apple) to use the new W1 Bluetooth chipset. This Apple-designed chipset should allow for better battery life. It also makes pairing with an Apple device a total snap—as long as your iPhone runs iOS 10.1 or higher. All I had to do to pair was turn the Beats X and bring them near my phone. A 'Connect' button instantly popped up and I was off—music ready to be heard wirelessly."
---
While mesh routers have broken through in 2016, the Wirecutter-recommended TP-Link Archer C7 though is one of the best "traditional" routers you can get, and it'll only cost you $70 today, a match for Black Friday, and the best price we've seen.
---
Top Home Deals
Before you head out on your next camping trip or beach vacation, you may want to grab this 10L dry bag to keep your gear safe from the elements. Just use code MT3BOY23 to get it for $8.
---
One of your very favorite water bottles is offering a very rare deep discount. Buy one or more Wide Mouth Hydro Flask water bottles and receive 50% off a tumbler.
---
Do you still use a tape measure, like some kind of caveman? This laser distance measurer takes instant distance readings of up to 164', and includes several built-in calculation functions, in case your middle school geometry skills are a little rusty.
---
I'm typically an espresso fan (because, efficiency), but I could see having $35 Hamilton Beach 12-cup Coffee Maker on hand for special occasions when guests are staying over. Plus, it's Amazon's best-selling coffee machine with nearly a 5-star rating.
Normally slapped with a $45 price tag, this coffee maker allows you to schedule brew times and set the flavor intensity (from regular to bold) to customize your cup to exact specifications.
---
This Wine Aerator and Decanter Pump takes a simple bottle of wine and turns it into a mini wine fountain dispensing perfectly aerated wine straight into your mouth glass. You place the telescopic rod into your wine bottle (or spirit or whatever liquid you wish), push a button and then 6 seconds later, it spouts out the dispenser like magic.
This product normally retails for $39, but you can get yours for just $20 with promo code LLFCRZT4, but I really don't think you can put a price on class like this.
---
This Coleman Oversized Quad chair screams tailgating since it basically holds everything you need in life in one portable package.
It has a small cushioned cooler in the armrest to hold some ice and up to 4 cans of your favorite beverage, plus a mesh pocket big enough to hold your phone, a second flap to hold a book or magazine, and a cup holder. All that for a never-seen-before low of $16, down from a usual $30+ price.
---
Update: This deal is back again, if you missed the Gold Box over the weekend.
We've all had to throw away leftovers or cuts of meat and cheese that spent a little too much time in the fridge or freezer, but vacuum sealing your foods can keep them safe from freezer burn pretty much indefinitely, and dramatically extend their shelf life everywhere else.
It sounds like an expensive proposition, but today, Amazon's selling this well-reviewed FoodSaver FM2435 starter kit for $89, or about $30 less than usual, and an all-time low. There are cheaper FoodSaver models out there, but the 2435 justifies its cost with a retractable vacuum sealing hose, allowing it to vacuum seal specially designed zipper bags, in addition to the usual heat-seal bags.
Of course you can use this to store meats in the freezer for a long time, but it can also keep cheese from molding, lettuce from wilting, or cookies from going stale, just to name a few examples. Think about how much food you throw away, and you'll get a sense of just how quickly this purchase could pay for itself.
---
Before you go out and flush $30 down the drain on a Yeti Rambler, check out this X-Chef alternative for just $10 on Amazon today, one of the best deals we've ever seen on this kind of thing. It uses the same vacuum-insulated stainless steel construction as a YETI or RTIC, so it should keep ice frozen for hours or even days, and hot drinks hot for as long as you need.
---
LED bulbs pay for themselves in energy savings and sheer longevity, and that's especially true when you can get them for less than $2 per bulb. Just note that these aren't dimmable, which is par for the course at this price.
---
You don't need a wet/dry vacuum until you really, really need one, so prepare for the leaks life throws your way with this 5-gallon model, marked down to an all-time low $30 today, if you're willing to wait out a backorder. You might not use this for your every day house cleaning, it's one of those things that everyone should have in their garage.
---
$24 is Amazon's lowest-ever listed price on these top-selling Bounty paper towels, but right now, an additional $2 coupon brings them down to a new low. You need paper towels anyway, so you might as well stock up.
---
Anker, producer of a lot of your favorite charging gear, has its own line of flashlights now, and you can get two of them for just $17 right now.
The entry-level LC40 model is IP65 dust and water resistant, but actually doesn't include a rechargeable battery. However, you can run it on three AAAs or a single rechargeable 18650 battery, which is cheap and easy to find.
---
No kitchen is complete without a good set of mixing bowls, and this 10-piece stainless steel collection (five bowls and five lids) is a steal at $28. They even have measurements etched on the inside so you end up with <very Great British Bake-Off voice> a good bake.
Top Lifestyle Deals
Labor Day has come and gone, but that doesn't mean there aren't any pools that need hopping. Amazon is marking down a ton of Speedo styles (and not just the banana hammocks) to as low as $10, for men, women, and kids. If you have a beach trip planned for a winter vacation, have a gym with a pool, or just want to relax in a jacuzzi, this is where you want to stock up.
---
If you need to groom, blow dry, straighten, or remove hair from basically any part of your head, this Remington Gold Box is for you. Today only, Amazon is marking down the hair tools to make grooming that much easier, like the already-popular Shortcut Pro Self-Haircut Kit and the Pearl Pro Ceramic Flat Iron.
Plus, there are extra $5, $10, and $20 coupons on everything already marked down in the Gold Box (except the already affordable hair dryer), so be sure to clip those before checkout. Style, groom, and remove hair for less.
---
Amazon's back at it again with another sample box deal. This time around, $8 gets you eight or more protein products from Optimum Nutrition, plus an $8 credit on your next eligible protein purchase from Amazon. If you were going to buy any of these products anyway, then this is a no-brainer.
---
The Philips Norelco Multigroom is actually a ton of shaving tools in one: A beard trimmer, a hair cutter, and a body groomer. $35 gets you the trimmer, 13 length combs, a precision trimming attachment, a nose hair trimmer, a wide hair-cutting blade, and more. Oh, and the whole thing runs for up to three hours on a charge, so you won't have to travel with the charger.
---
Here in New York, the first two weeks of September have become the Running of the Bulls Models. New York Fashion Week has descended onto this fair city, and in honor of the most questionably-fashionable days of the year, H&M is giving you 30% off any one item you want with the code 2700, from men's and women's, to kids and home. Even if you couldn't care less about Fashion Week, 30% off is 30% off.
---
Merrell may be most known for their quality hiking footwear, and you can get a piece of that for less. Right now, they're running a Private Sale with a bunch styles of footwear for men and women, just in time for the hiking weather to start. Some styles have a couple colors to choose from as well, and even the leather boots for women are waterproof.
---
Anker unveiled its very first smart bathroom scale back in February, and we've only seen two discounts on it ever since. Until now.
In addition to functioning as a normal digital bathroom scale, the BodySense can measure metrics such as body fat percentage and body water, and sync all of that data over Bluetooth to your iOS or Android smartphone. You can see my impressions here, but it's the most seamless and reliable smart scale I've ever personally used, and a great deal at $40, or $10 less than usual.
Note: You'll need code EUFY9140 to get the deal on the black model, but the white model is available for $40 without a code.
---
A first aid kit is one of those things you should probably keep in your glove box, and you should definitely have at home, and at $11 for 131 pieces, there's no excuse not to be prepared for minor accidents.
It includes bandages, gauze, medicines, an instant cold pack, and more, all tucked away in a refillable soft pack. You can thank us later.
Top Media Deals
If you like to fill your Kindle with romance novels (hey, we're not judging), here's a $3 credit you can claim towards your next eligible title. You have to spend it by September 30, but there's no risk in adding it to your account. You can find all of the eligible books here (there are a lot of them), many of which cost $5 or less before the credit.
---
If you want to land a tech job, but are constantly held back by being a big ol' dummy, boy do we have a deal for you today.
Humble's latest ebook bundle includes 15 "For Dummies" books to help you with every aspect of landing a job, from writing your cover letter to learning basic python. As always, the books are split between three different tiers, but you can name your own price.
---
A lot of io9's readers preordered this Die Hard illustrated Christmas book last week, and it just dropped an extra $4, down to $10. Plus, you'll be covered by Amazon's preorder price guarantee, so if it drops any lower before release, you'll automatically get the best price.
Top Gaming Deals
Humble's Capcom x SEGA x Atlus bundle is full of, uh, Capcom, Sega, and Atlus games for great low prices. Highlights here include Dead Rising, Resident Evil 4, and Motorsport Manager, just remember that you'll have to pay at least $12 to unlock all of the games.
---
If you're lucky enough to own a Nintendo Switch, you'd better take good care of it. This $10 carrying case has a hard shell, a soft interior, a pocket for accessories, and storage for eight games.
---
Cuphead is finally coming out at the end of the month, and you can save 20% on your PC preorder from Green Man Gaming with promo code 20CUPHEAD. Just don't post any videos of yourself being bad at it, or someone might, like, throw a brick through your window.
---
If you regularly shop at GameStop, this discounted gift card is basically $10 in your pocket. You won't even have to trade in your old games.
---
Humble might be best known for its bundles, but its game store is actually pretty great, especially during the End of Summer Sale. A ton of games from various publishers are included, and for 48 hours only, you can even get The Walking Dead: Season 1 completely free, no strings attached.
Highlights of the sale include Civilization VI for $39 and XCOM 2 for $24, but it's worth browsing the full sale to find everything on your wishlist.
Tech
Storage
Power
Audio
Home Theater
Computers & Accessories
Photography
Home
Kitchen
Tools & Auto
Lifestyle
Apparel
Beauty & Grooming
Camping & Outdoors
Fitness
Media
Movies & TV
Books
Gaming
PC

PlayStation 4
Xbox One
Switch
3DS
Toys